VOCAL SOUND BATH

We are a team of singers with professional background in voice and therapeutic work. In our Vocal Sound Bath we create sonic landscapes in the moment, specifically for each person and group, with the intention of deepening an inner connection. We invite you to choose a comfortable, lying down position to receive a lullaby of our voices. 
*****
NEXT VOCAL SOUND BATH DATES – EXPERIENCE THE HEALING VOICES IN AN OPEN EVENT: 
SUNDAY, 10th November 17.30-18.30h:  
*****
Benefits:
A deeply relaxing experience for mind, body and spirit

Sound waves and frequencies have a calming effect on your nervous system

Passive treatment that reduces anxiety and stress

Connect with your intention of healing in a safe and nurturing space

What happens during a Vocal Sound Bath Therapeutic Session:
Over the course of 45min you will be bathed in vocal sound created live for you. Each Session begins with a guided meditation to connect with your body and breath. We then use vocal techniques such as "toning" and "overtoning" for you to gradually relax more into your body, followed by creating the vocal landscapes and melodies we dedicate to you in the moment.
Session Options:
Our Vocal Sound Baths are tailored for up to max. 6 people. You will go deeper into a therapeutic process, especially as you connect more often to this practice with time.
Session with 2 Singers
This setting is ideal for everyone who wants to experience a more personalized work. Conceptualised for an Individual Session with a therapeutic intention; or as a relaxing sound experience to reconnect with your body.
Session with 3 Singers
Recommended for a Couple Session, in which you share an intimate sound connection with your partner. You can also book this option to deepen your connection with your family or friends, while being bathed in the sound of three singers.
Session with 4 Singers
With four singers, this setting is literally more enveloping and surrounding. It is suited for everyone who seeks a sensational experience, travelling along with the vocal sounds and awakening a flow of images inside of you. Recommended for a Session with your Family or Friends, in which you deepen your connection through the intention that you set for each other.

What people have said after receiving our Vocal Sound Bath:
"I feel very at peace with myself and very light".
"My heart is very open now."
"I feel very calm and I really needed this after feeling very tense the last days."
"I felt as if I travelled through different countries".

Booking
To book a session for yourself, or for someone close to you, please get in touch via  vocalsoundbath@gmail.com
Upon booking you will receive a registration form where we ask you to share your main intention for receiving our Vocal Sound Bath.
Our Vocal Sound Bath Sessions take place at the beautiful Little Yoga&Therapy Space: http://www.littleyogaspacelisboa.com

Our Vocal Sound Bath Team
We are four singers with the same vision to deepen connections through the healing qualities of the voice. Empathy and presence are the pillars of our work. We seek to offer our Vocal Sound Baths in healing spaces such as the Little Therapy Space, dedicating our voices and melodies to people in need of healing and relaxation.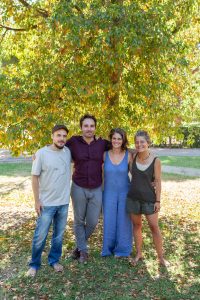 Andrea Vertessen is a believer and very confident that each person is the source of their own healing process. As a songwriter, facilitator and music therapist she has been facilitating different kinds of paths, allowing people to connect with their inner self.   
Anna Grabner is essentially passionate about the healing qualities of the voice. As a singer and psychologist she found an inspiring match in Voice Movement Therapy, a safe foundation to assist people in reconnecting with their authenticity through their voice.  
Diogo Tomás is a professional singer based in Lisbon. Besides his artistic journey, he has been researching and deepening the inevitable connection between voice and self-knowledge, working as a vocal coach and facilitator in individual and group sessions, to help people find their own voice.
Miguel Soares has been immersed in music making as a way of exploring and transmuting Self and Others. Musical connection, creation and performance have been a driving force in life along with his work as a music therapist in the field of mental health.
*****
NEXT VOCAL SOUND BATH DATES – EXPERIENCE THE HEALING VOICES IN AN OPEN EVENT: 
SUNDAY, 10th November 17.30-18.30h: