Women's Retreat 🌹 (May 13-15th, Meco, Portugal)
Starts May 13, 2022
Ends May 15, 2022
Casa do Pateo, Meco, Portugal
390€ (Special Bring a Friend Price: 330€ each)

WOMEN'S RETREAT

Dive into Your Sensual Body through Voice & Tao Tantric Practices
When Women gather something magical happens
This retreat is an invitation for you to connect to the natural aliveness in your body and be fully present with all your senses, your breath, your voice, your heartbeat and creative power in your womb.
Feeling all the subtle movements of your life force moving and dancing, tuning into all its expressions, untamed and wild, gentle and calm. Allowing the life current to guide you and let it wash over all the layers that block your natural expression.
We invite you to explore what makes you feel truly alive through different Voice & Tao Tantric Practices. We will play with movement, breath, sound, voice, and elements of nature to activate your body and tap into your sensuality and natural sense of aliveness. We will create beautiful rituals and temples to honor your sacred feminine body and creative power within. When we feel safe to be seen and heard we allow each other to step into our naked truth. When we give space to silence and listen deeply, we meet our true essence beyond any layers and patterns that we call our story.
Some practices that we will share in this retreat:
Activate your vital energy in your womb space with conscious movement, breathing and sounding
Connect and listen to your heart in a Sacred Cacao Ritual and express the Prayers of your heart
Awaken your sensuality as you immerse yourself in nature and connect to different natural elements in a playful exploration
Receive loving nourishing Touch
Dance yourself alive as you activate your chakras and explore your shakti (life energy) and her earthy, watery, fiery, and airy qualities in your body
Create Sacred Temple spaces where you immerse yourself in your senses to awaken your sensual body and honor your yoni – heart – throat connection
Sisterhood Sharing Circle
Singing Ceremony
Modern Women are often disconnected from their bodies due to their upbringing, beliefs and life experiences. Often, we feel we are not good enough, we feel judged and shamed for who we are and how we express ourselves. In response, we repress our life energy and numb ourselves to protect ourselves from pain. We build defense mechanisms that lock our vital energy in the body which creates a sense of disconnect and a lack of aliveness.
A Woman's path to awakening is through her body.
Tao-tantra offers powerful tools for you to remember that your true power lies in your body. As you start to dive into your body and cultivate an intimate connection with yourself through embodiment practices, you liberate your life energy and tap into your full aliveness. Your life force is naturally ecstatic, it wants to play and create. As you tune into its expression and allow it to move, you discover your divine nature. You realize your body is your true temple. Every breath, every heartbeat is a desire of life to find its unique expression, to be alive. As you start to consciously move, breathe and sound into your pelvis and your womb, you connect to the raw, creative, sexual power within you. You awaken your sensual body and start to honor your body as a living temple. You find a sense of home and belonging in your body.
One of the most intimate ways to express what is alive in you is through your voice.
Your voice carries your full spectrum of emotions – wild, soft and strong, vulnerable and open, the raw sounds of your being, when you laugh and cry. It reminds you to share and speak the language of your heart, because what you say and how you say it matters. When you really listen and speak from your heart, you welcome your voice exactly as she is and you meet your true voice.
Through gentle humming, guided chakra toning, intuitive sounding and singing you invite your voice to dance within. When you breathe deeply and let the voice vibrate, you open up for life. As we join our voices together in song our bodies experience a sense of release, expansion and joy.
Your embodied voice helps you activate the creative energy in your womb space. As your voice starts to travel down your throat into your pelvis, stimulating the vagus nerve, your body drops into a place of relaxation. You release stuck emotions and physical tension around your jaw and pelvis which frees up your voice and creates more space for your sensual body to come alive.
We, Martina Vonkomerova and Anna Grabner, are excited to invite you to this Women's Retreat and share practices we love, from the Voice and the Tao Tantra World. Our intention is to create a playful and sacred space where deep connection is possible and each woman feels honored and celebrated.
We invite you to step into the Women's Temple and feel full permission to be exactly as you are, as you dive into your sensual body.
This retreat is for you if you want to:
Cultivate a more intimate and loving relationship with your body
Open up new pathways in the body to feel more aliveness and vitality
Connect to your sensuality
Explore and reclaim your wild feminine nature in all her expressions
Feel supportive energy of the sisterhood
Release blockages around your vocal expression
Activate the connection between your voice and pelvis to free up your voice
 Date:
Friday May 13th –  Sunday May 15th 2022
Location:
Casa do Pateo, Meco, Portugal
Price:
Early Bird          – 330
€ – until March 20th
Full Price           – 390
€
– until May 7th
Bring a Friend  – each of you pays 330
€
✨
✨Our Retreat will be held in English. As we have been living in Portugal for many years we can easily translate into Portuguese for everyone who feels more at home in their Portuguese mother language. 
For bookings and more info please contact us:
Martina Vonkomerova: martina@yohemi.com
Anna Grabner: anna@yourvoicemoves.com
To book your place, please get in touch here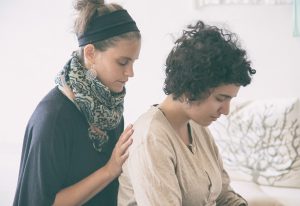 ********Em Português************
RETIRO PARA MULHERES
Mergulha no teu corpo sensual através de praticas de Voz e Tão-Tantra
Quando mulheres se encontram algo mágico acontece.
Este retiro é um convite de entrar num espaço seguro e acolhedor para explorar a sabedoria do corpo feminino. È um convite para conectar com a vitalidade natural do teu corpo e estar presente com todos os teus sentidos, a respiração, a voz, o batimento cardíaco e o poder criativo no teu útero. Convidamos a explorar o que faz te sentir verdadeiramente vivo através de diferentes Práticas de Tao-Tântra e de Voz.
Vamos explorar o movimento, o som, a respiração, a voz e elementos da natureza para ativar o corpo e explorar sua sensualidade e senso natural de vitalidade. Criaremos rituais e templos para honrar o corpo feminino sagrado e seu poder criativo interior. Vamos criar espaços sagrados onde cada mulher pode mergulhar em seus sentidos para despertar seu corpo sensual e honrar sua conexão entre a yoni – coração – garganta.
Quando nos sentimos seguros para ser vistos e ouvidos, permitimos uma á outra entrar em nossa verdade nua. Quando damos espaço ao silêncio e ouvimos profundamente, encontramos nossa verdadeira essência além de qualquer camada e padrões que chamamos nossa história.
Acreditamos que uma das maneiras mais íntimas de expressar o que está vivo dentro de nos é através da nossa voz. A voz transmite todo o espectro de emoções – selvagem, suave e forte, vulnerável e aberto, os sons crus do ser, quando rimos e choramos. A voz nos lembra de partilhar e falar a língua do nosso coração, porque o que nos dizemos e como nos dizemos é importante. Quando respiramos profundamente e deixamos a voz vibrar, abrimos nos para a vida. Através de sons suaves, a tonificação guiada dos chakras, sons e cantos intuitivos, podemos dar as boas-vindas à nossa voz exatamente como ela é e conhecemos a verdadeira voz.
A nossa voz incorporada ajuda a ativar a energia criativa no espaço uterino. À medida que a voz começa a descer pela garganta até a pélvis, estimulando o nervo vago, o corpo entre em relaxamento. Liberamos emoções presas e a tensão física ao redor do maxilar e pélvis, o que libera a voz e cria mais espaço para o corpo sensual ganhar vida.
Durante estes dias magicas em conjunto vamos partilhar práticas que amamos, do mundo da Voz e do Tao Tantra. Nossa intenção é criar um espaço lúdico e sagrado onde seja possível uma conexão profunda e cada mulher se sinta honrada e celebrada.
Convidamos te a entrar no Templo das Mulheres e sentir a permissão para ser exatamente como tu es, enquanto mergulhas no teu corpo sensual.
✨O nosso Retiro vai ser guiado em Inglês. Sendo que estamos a viver em Portugal ha muitos anos poderiamos facilmente sempre traduzir para quem se sente mais seguro na sua lingua materna portuguesa.